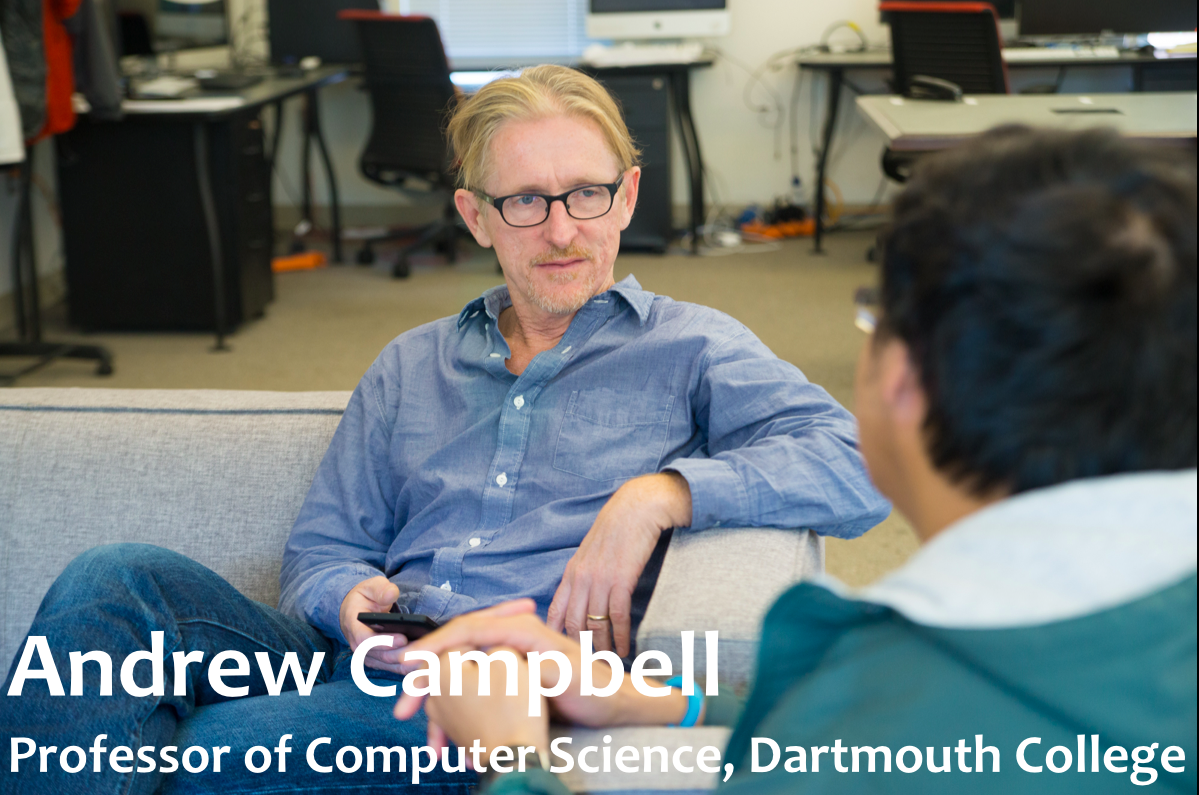 I am an experimental computer scientist working on ubiquitous computing. At Dartmouth, I co-direct the
DartNets Lab
with
Xia Zhou
. Previously, I led the
Smartphone Sensing Group
.
My research is focused on turning the everyday smartphone into a cognitivephone by pushing intelligence to the phone and cloud to make inferences about people's behavior, surroundings and their life patterns.

I am very interested in using smartphones to sense, inform and nudge people in a better direction in terms of their physical and mental health; StudentLife is a good example of computational behavioral science meets smartphones.

Before joining Dartmouth computer science, I was a tenured associate professor of electrical engineering at Columbia University (1996-2005). Prior to that I spent ten fun years in the software industry working on the development of operating systems and wireless networks.

See my Google scholar profile and h-index.
I live in Norwich, Vermont with my wife, Susan Zak, and our sons, Miles and Will.

Office: Sudikoff 260; campbell@cs.dartmouth.edu

Thanks for visiting!

teaching
CS 65/165 Smartphone Programming
CS 69/169 Human Behavioral Computing
CS 50 Software Design and Implementation
CS 60 Computer Networks
CS 69/169 Seminar on Smartphone Sensing and Programming
CS 88/188 Clouds, Crowds and Phones
awards
Google Faculty Research Award, 2014
Friedman Family Fellowship (Dartmouth College), 20009-2010
EPSRC Fellow (UK), Cambridge University, 2003-2004
NSF Faculty Career Development (CAREER) Award, 1999-2003
IBM University Partnership Faculty Award, 1999
ATT Foundation Faculty Award, 1996
EPSRC Scholarship (UK), Visiting Scholar, Columbia University, 1994-1995
news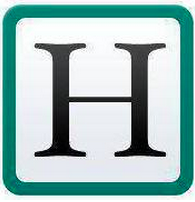 App Can Tell When Students Are Stressed Out
,
September 2014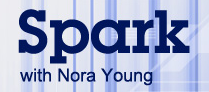 Sensing Depression
, Radio interview with Nora Young on CBC/NPR Spark, September 2014

Failing Students Saved by Stress-Detecting App , appeared in the print as "Phone in your feelings", New Scientist September 2014

Sensitive Smart Phones Decipher The Habits Of Successful Students, September 2014
This App Passively Tracks Your Mental Health, September 2014

Stressed Out? Your Smartphone Could Know Even Before You Do, September 2014

This Phone App Knows If You're Depressed, Technology Review, September 2014

Your Smartphone Thinks You're Sad, CBS News, September 2014

Smartphone App Knows When You're Feeling Blue, CNET, September 2014

Dartmouth Teacher Makes Health App, Valley News, September 2014

Dartmouth's StudentLife App Can Tell You If Your Mental Health Is Hurting Your Grades, engadget, September 2014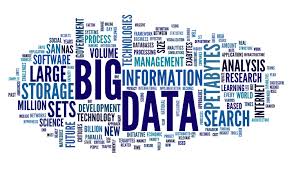 We have publicly released the
StudentLife dataset
, September 2014

Our
StudentLife paper
has been nominated for best paper at
UbiComp 2104
, September 2014

How Are You Feeling—and Doing? Ask Your Smart Phone,
September 2014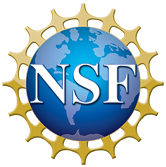 New NSF NeTS grant on advancing virtual light communications and sensing with
Xia Zhou
, July 2014

Smartphone App Keeps Watch Over Schizophrenic Patients,
IEEE spectrum on our new NIH CrossCheck project, July 2014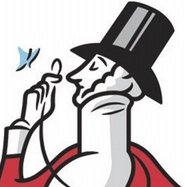 The Case for Banning Laptops in the Classroom (Dan Rockmore),
New Yorker, June 2014

Dartmouth Computer Science Students Forsake Robotics for Nanocopters,
April 2014

Students' Nanocopters Take to the Air Above the Green,
March 2014

Google Faculty Research Award with Xia Zhou, February 2014
CS 69/169 Human Behavioral Computing, winter 2013


New NIH EUREKA grant; see Harnessing the Power of Smartphones to Prevent Psychosis, November 2013
I won the "had to be said" session at ACM MobiCom 13 and that's Sharad Agarwal presenting me with the hottest wireless notepad on the market; MobiCom is a live and well BTW, superb talks, great demos and a lively crowd in Miami this year, September 2013.

Higher Ed Adapts to the Mobile App Economy, (aired during NPR's mng edition)

David Kotz and I are hosting ACM MobiSyS 14 at the spectacular Mount Washington Resort. September 2013

Founded the DartNets Lab (Dartmouth networking and ubiquitous systems) with Xia Zhou, September 2013


I'm giving a keynote talk at the UbiComp 13 workshop on mobile systems for computational social science, September 2013

Using a Smartphone's Eyes and Ears to Log Your Every Move, MIT Technology Review, July 2013

Microphones as sensors: Teaching old microphones new tricks, Economist, June 2013

MoodRhythm wins open mhealth challenge, June 2013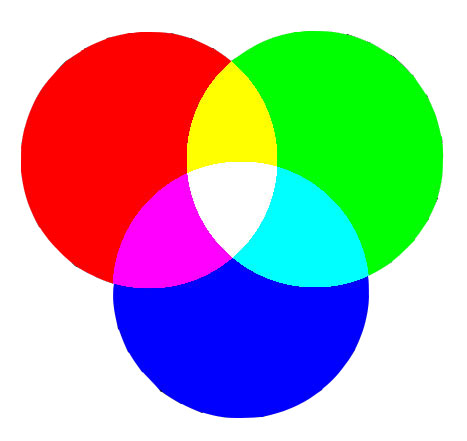 Dartmouth Biorhythm Project kicks off
, April 2013

Biorhythm project monitors students
, April 2013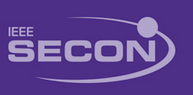 I'm giving the keynote at
IEEE SECON 13
on the
rise of mobile sensing and the end of the smartphone era

2013 papers on CarSafe at MobiSys and unobtrusive sleep monitoring at Pervasive Health, March 2013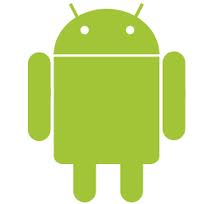 CS 65/165 Smartphone Programming
- new Android programming class Spring 2013

Smartphone App Alerts Drowsy Drivers,
December 2012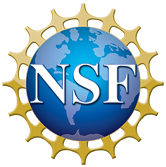 Final report and recommendation from the NSF Sponsored Workshop on Pervasive Computing at Scale, November 2012


Our paper on Visage: A Face Interpretation Engine for Smartphone Applications won the best paper award at the Fourth International Conference on Mobile Computing, Applications and Services (MobiCASE), October 2012
App Crams Driver Aids Into Android Phone, October 2012

Our CarSafe App was featured in the New Scientist: Lane-keeping app makes any car smarter and demonstrated at UbiComp in September, 2012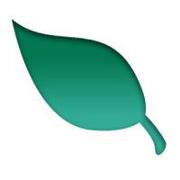 Other press coverage of CarSafe: CBS's smartplanet, networkwold, gizmag, msn September, 2012

I'm Technical Program Co-Chair of the PervasiveHealth conference, Venice, May 5-8, 2013 -- please submit a paper/demo


Smartphone that feels your strain - our work on the StressSense App for smartphones, which infers stress from speech is featured in the New Scientist, August, 2012 - a paper on StressSense will be presented at ACM UbiComp in September, 2012

Voice-Stress Software Is Put to the Test, PhysOrg and ACM Tech, August 2012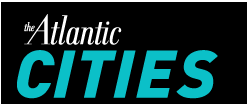 3 Next-Gen Apps for the Stressed-Out Urbanite Cities, The Atlantic Cities, August 2012

From Smart to Cognitive Phones, Pervasive Computing Magazine, June 2012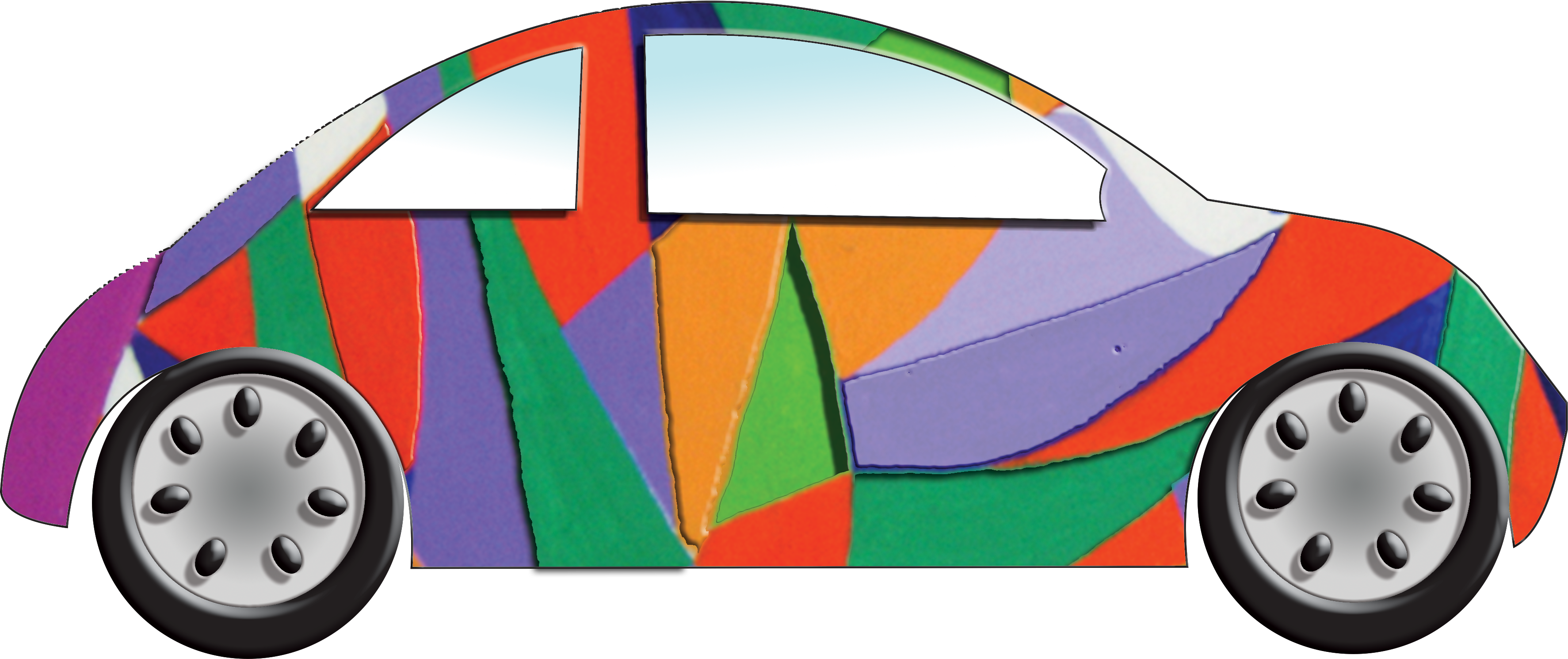 A demo of our CarSafe app, June 2012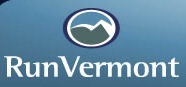 Completed my 10th marathon. Started back in 1997. New York (3), Stowe (2), Shakespeare (1) and Vermont (4) -- now what?, June 2012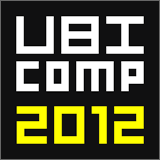 New UbiComp 2012 paper on StressSense - Detecting Stress in Unconstrained Acoustic Environments using Smartphones, May 2012

We released BeWell App on Google Play - here is a demo of how it works, May 2012

2 HotMobile papers that grabbed us: WalkSafe and SpinLoc, Networld, March 2012

Joint work with Tanzeem Choudhury (Cornell) on stress form speech and the BeWell App in the NYTimes Magazine article on The Little Voice in Your Head
, January 2012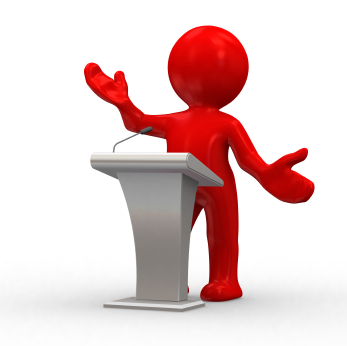 "How are you feeling Android?"
,
13th Meeting Society for Personality and Social Psychology (SPSP)
, San Diego, January, 2012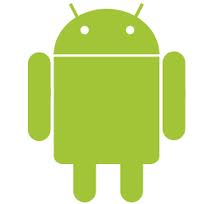 CS 69/169 Smartphone Sensing and Programming
, winter 2012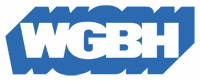 Texting While Walking Draws Safety Concerns — And An App, WGBH Boston aired a feature (audio included) on our WalkSafe App during NPR's Morning Edition and All Things Considered shows, December 20


Discovey Channel's

Daily Planet

aired a piece on WalkSafe (5 minutes into the show), November 29



Smart-Phone App Warns Pedestrians of Oncoming Cars
, MIT Technology Review, November 2011

Phone App For Distracted Pedestrians Detects When You're About to Get Hit By a Car, Popular Science, November 2011

Safely Cross the Street With An App That Watches For Traffic, Gizmodo, November 2011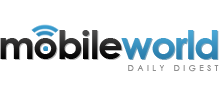 WalkSafe Android App Helps you Walk Safe, Mobile World, November 2011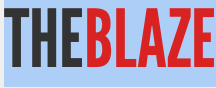 New App Actually Alerts Texting Walkers they're about to get Hit by a Car, The Blaze, November 2011

WalkSafe: Early Warning App Tries to Keep You from Getting Run Over, technabob , November 2011

WalkSafe App Keeps you from Strolling into Traffic, msnbc.com GadgetBox, November 2011

Fast Company's Co.Exist

reports on our work on the BeWell App for smartphones: Get Some Therapy From An App That Reads Your Feelings Through Your Voice, November 2011

CBS News Sunday Morning

Neural Phone is featured as part of the cover story on The next step in bionics aired on CBS, October 2011

2011 papers on smartphone sensing published in UbiComp, Pervasive, ICDM and Pervasive Health.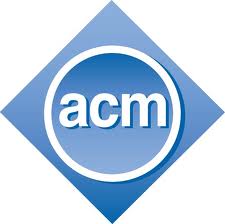 I'm Technical Program Co-Chair of the 10th ACM Conference on Embedded Networked Sensor Systems (
SenSys
)

Our work on the Neural Phone is featured in the NYTimes Magazine article on
The Cyborg in us all
, [pdf] [demo]
September 2011

UbiComp 2011

Our paper on Community Similarity Networks (CSN) was nominated for the best paper (5 out of 300) award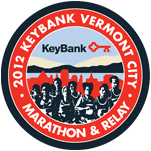 I finished my 9th marathon (one more to go then I'm done), May 2011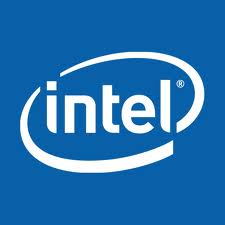 Future Lab: Context Aware Computing (interview), April 2011

Interview on the IT conversation network about smartphone sensing, January 2011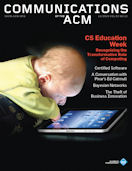 The eyes have it, [pdf] Communications of ACM, December 2010


Tanzeem Choudhury develops cellphone apps to track our health, EarthSky, November 2010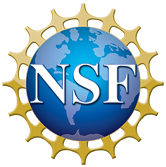 Diane Cook (WSU), Shwetak Patel (UW), Roy Want (Intel Labs) and I are organizing an NSF Sponsored Workshop on Pervasive Computing at Scale, Seattle, January 27-28, 2011

Nokia toys with context-aware smartphone settings switch, Jigsaw provides better context for apps like this, Engadget, November 2010

Smartphone app monitors your every move, New Scientist, November 2010

2010 papers on smartphone sensing published in UbiComp, Pervasive, ACM MobiSys, ACM SenSys and AAAI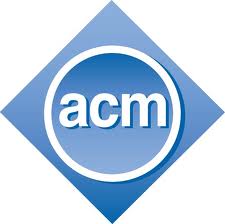 Jie Liu (MSR) and I organized a workshop on Sensing for App Phones (PhoneSense) collocated with SenSys, November 2, 2o1o

The NeuroPhone, The Atlantic, September 2010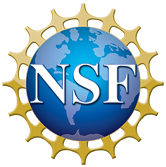 New NSF EAGER grant on "Brain-Mobile Interfaces: Exploratory Research into the Development of Networked NeuroPhones" with Tanzeem Choudhury and Rajeev Raizada, September 2010

Share Information to Boost Cellphone Performance, New Scientist, June 2010

EyePhone: New Cellphone Software Tracks Users' Eye Movements For Control, Popular Science, May 2010

Eye Tracking for Mobile Control, MIT Technology Review, May 2010

Mobile Phone Mind Control, MIT Technology Review, April 2010
smartphone sensing apps

We started to develop smartphone sensing apps in 2006; here are a few of the apps we have developed -- a key constant is exploiting embedded sensors and pushing learning to the phone to build new behavioral apps. Check out the video demonstrators and survey.

NeuroPhone: can a thought drive a phone?

WalkSafe: can a smartphone watch your back?

CarSafe: simultaneously watches for distracted driving inside the car and dangers outside the car

BeWell: first continuous sensing well-being app -- automatically learns your sleep, activity and conservation patterns and provides feedback

SoundSense: learns the sounds in your life

EyePhone: first eye driven phone interface for mobile phones

CenceMe: first continuous and automatic social sensing app for smartphones

keynote talks

"BioRhythm Study: A term in the life of a Dartmouth Class", at the UbiComp 13
workshop on mobile systems for computational social science
, Zurich, September 2013
"
Rise of mobile sensing and the end of the smartphone era"
, IEEE Conference on Sensing, Communications and Networking (SECON), New Orleans, June 2013
"My phone told me I'm stressed and should go for a run", EPSRC-funded Cross-Disciplinary Research Conference, London, October 9-10, 2012.
"Smartphone Sensing for the Masses",
ACM Eye Tracking Research & Applications Symposium (ETRA 2012)
, Santa Barbara, March 28-30, 2012
"How are you feeling Android?",
Pre-Conference Workshop on Using Smartphones as Mobile Sensing Devices: A Practical Guide for Psychologists to Current and Potential Capabilities, Thirteenth Annual Meeting of the Society for Personality and Social Psychology (SPSP)
, San Diego, January 26-28, 2012
"Smartphone Sensing for the Masses",
Eighth Annual International Conference on Mobile and Ubiquitous Systems: Computing, Networking and Services (MobiQuitous)
, Copenhagen, December 6-8, 2011
"After Smartphones, Cognitive Phones: Enabling Behavioral Applications and Networks",
EPSRC Workshop on Social Sensing: Mobile Sensing meets Social Science
, University of Cambridge, Cambridge, UK, March 17, 2011
"Mobile Phone Sensing is the Next Big Thing!",
ACM Workshop on Mobile Opportunistic Networking (MobiOpp 2010)
, Pisa, Italy, February 22-23, 2010
"People-Centric Sensing and the Rise of the Global Mobile Sensor Network",
SENIOT: From Sensor Networks to Networked Intelligent Objects, Bertinoro International Center for Informatics (BiCi), International CONET Summer School
, Bertinoro (Forlì-Cesena), Italy, July 26 - August 1, 2009
"After Motes and Multihop: Mobile Phones and the Global Mobile Sensor Network",
7th IEEE International Conference on Pervasive Computing and Communications (PerCom)
, Galveston, March 9-13, 2009
"The Rise of People-Centric Sensing",
10th International Conference of Distributed Computing and Networking (ICDCN),
Hyderabad, India, January 3-6, 2009
"The Rise of People-Centric Sensing",
BCS Visions in Computer Science
, London, Imperial College, London September 22-24, 2007
"MetroSense: People-Centric Sensing at Scale",
2nd Annual European Conference on Smart Sensing and Context (EuroSSC 2007)
, Lancaster, UK, October 23-25, 2007