Hanover Aqueducts
http://www.cs.dartmouth.edu/~sws/maps/waterworks/index.shtml
Last modified: 09/11/02 12:04:50 PM
---
In the 1800s, the Hanover Aqueduct Association provided the town's water. They constructed a series of wells near Mink Brook, and used lead pipe (initially 1.5 inch diameter, then replaced with 2 inch) to conduct the water to town. (Fortunately, the high mineral content of the water quickly left a deposit on the inside of the pipes that protected the customers from lead poisoning!)
These wells still exist: stone structures of various sizes, many with heavy covers....
The trail goes into the woods from the parking lot of Luminiscent Systems, Inc, near the dead-end of Lafayette (not too far from the USPS Carrier Annex).
The trail from Centerra consists of
1. single track, obscure in spots
2. an old woods road, in good shape
3. an old woods road, that was fairly clear in the spring, but is now quite overgrown with weeds, and muddy too.
#1 turns into #2. Together, these are about 1 kilometer.
#3 then departs left at a large intersection. (Shortly afterward, there's a newer, well-defined trail on the left; that's not what you want to take. You want the faint old road.) From the intersection to the very large cistern/well is about 350m. Along the way are a series of lesser wells...
I've left some pink ribbon at the sketchier parts of #1, and at the #3 intersection.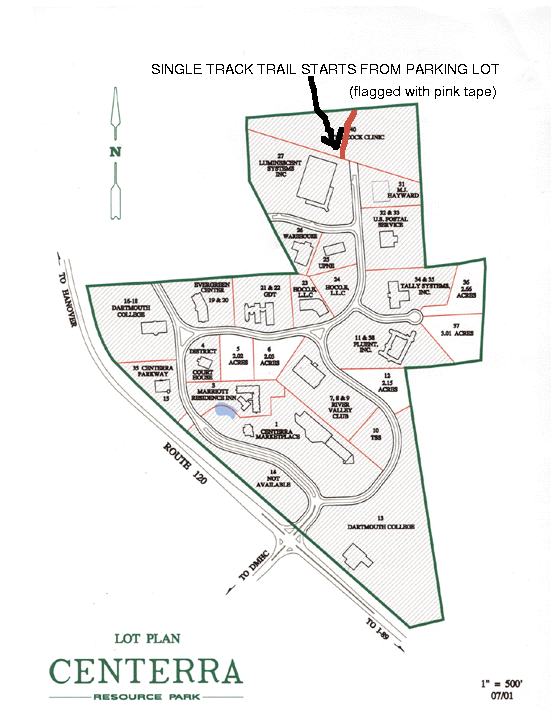 ---