Cynthia Crawford's Harp Page
Harps
Castle and Court Music from Scotland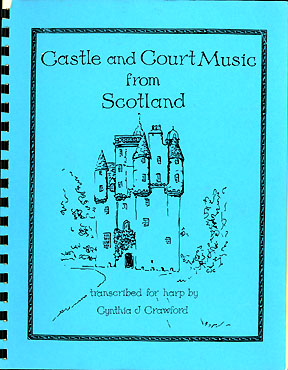 My book of Scottish music for harp, keyboard, or other instruments. Contains transcriptions from the Straloch and Rowallan Lute Manuscripts.
2010 update: I am not currently playing much Harp, due to some muscle injuries. However, I am still very interested in harps, and especially Early music for harp. At present, I am the only person selling this book. Click on the link above for more information. "Big Bird" is, sadly, also currently out of commission. Her soundboard cracked, and I am looking for someone who can restore her.
My Harps

This harp is a copy of a Spanish renaissance harp. It is named "Big Bird".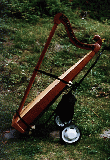 and was made by Lynne Lewandowski, of Brattleboro, Vermont. I also have a wonderful Flemish harp built by Ansel Erickson-Zinter of Westover harps. It is pictured below The picture of "big bird" nesting is her golf cart carrier,adapted slightly for her needs.I paid $15.00 for it-works great.This harp is great for Paraguayan music-a big bright sound.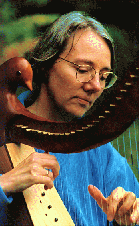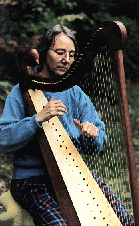 ---
Here are the pictures of my Flemish harp, made by Ansel Erickson-Zinter. It has a big bright tone, and I use it a lot when I need levers and portability. It is made of walnut , with tiger maple inlay. Ansel is a meticulous builder, as you can see in his beautiful work. I also have a little "healing Harp" made by Ansel. Sadly, he is not making harps anymore.

Westover Flemish Harp
Flemish Harp2
Flemish Harp 3
---
There have been visitors since January 11, 1998