Johnny Ray's, Birmingham, AL
Visited August 20.

We stayed with our friend, Karen Rapkin, in Birmingham. Our original plan was for the three of us (Nicole, Karen, and me) to head to Tuscaloosa on August 20 to eat at Dreamland. But we got a pretty late start, and we decided to eat in Birmingham instead. Now, we could have gone to the Dreamland location in Birmingham, but we wanted to go to the original one in Tuscaloosa. We decided to go to Johnny Ray's, which the Sterns recommended in Eat Your Way Across the USA. This would prove to be our first experience with their low standards.

Here are Karen and me outside Johnny Ray's. We're happy because we haven't eaten there yet.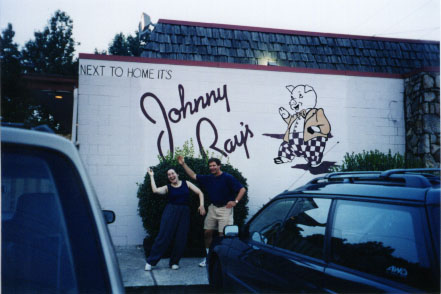 This stuff was just plain awful.
We got sliced pork. Bad. Ribs. Bad. Sliced beef. Bad. Chicken. Bad. Terrible, thick, sweet sauce. Dry meat, not flavorful at all.
Nicole writes, "If that's what the Sterns think is good BBQ, we see why they weigh 300 lbs." (Based on the photo on the back cover of their book.)
To add insult to injury, Johnny Ray's menu says they have beer. They don't. And the waitress had no idea why the menu said they have beer when they don't.
---
Thomas H. Cormen <thc@cs.dartmouth.edu> Last modified: Mon Jul 21 19:05:37 2008