The Lexington Six-Pack
Lexington, NC is famous for its western NC-style BBQ (chopped pork with a vinegar- and tomato-based sauce, usually served on a bun). For one thing, it has 17,000 residents and 17 BBQ restaurants. And the BBQ there is excellent...assuming that you like western NC-style BBQ. Luckily, we do. Folks in Alabama don't. They refer to it as "dog food."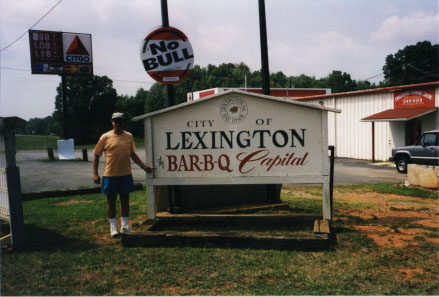 Our visits to Lexington BBQ restaurants were crazed. We ate dinner at Lexington BBQ one evening and ended up staying in Lexington that night. (We had planned to stay in Winston-Salem, 20 miles away, but the Wake Forest students were returning and there wasn't a room to be had unless you were a smoker.) We awoke the next morning in a hotel that was across the street from Jimmy's. We each had a BBQ sandwich there at 10:00 AM. At 10:30, we each had a sandwich at Southern BBQ. At 11:15, we each had a sandwich at Stamey's. At noon, we went back to Lexington BBQ. Why? Because at our hotel room, I checked Lolis Eric Elie's Smokestack Lightning writeup of Lexington BBQ, in which he highly recommends getting outside meat (meat from the outside of the pork shoulder) for its smoky flavor. So back we went. By now, however, we were so full that we had to split a sandwich. (We ended up eating BBQ for dinner that night at Carolina BBQ in Cashiers, NC.)

The next week, we were planning to visit Wilbur's BBQ in Goldsboro, NC. But we had to change our course, as Hurricane Bonnie wanted some of Wilbur's BBQ, too. Staying inland, where did we end up but Lexington? How convenient! We completed the six-pack (John Wayne's and Speedy's) and then headed to Durham to spend the night.

The Lexington six-pack is listed in order of my preference. There are two things you should know. First, Nicole has a minor disagreement with my order. She would swap #2 and #4. Second, in talking with locals, I picked up a Jimmy's-Speedy's axis. That is, folks who liked Jimmy's tended not to like Speedy's as much, and vice-versa. We liked them all, but given that we both ranked Jimmy's #1 and Speedy's #5, I suppose that the axis is real.

Visited August 19.

Here I am by Jimmy's sign.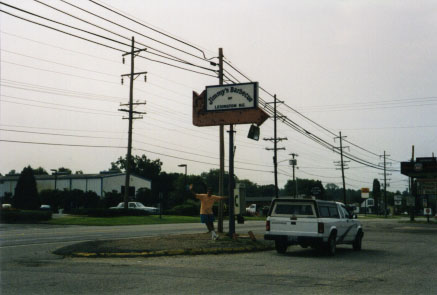 And here's Nicole, happy after her first BBQ sandwich of the day.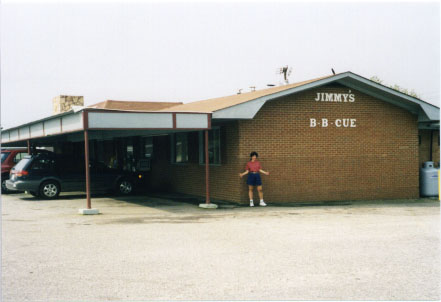 There isn't that much to say about Jimmy's, other than that is was terrific. Hey, we had BBQ sandwiches there at 10:00 AM, and they went down real easy. We liked it the best of all the western NC-style BBQ that we had. Excellent meat and sauce. No attitude...quite humble. If you want to dial direct, it's the place to go.

Visited August 19.

Stamey's neon sign.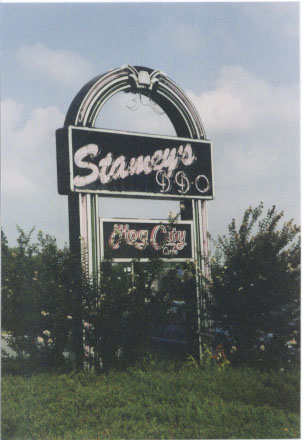 Their front door. I have no idea who the lady is.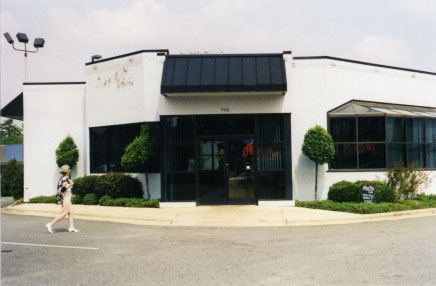 Stamey's had very good meat, perhaps a little smokier than Jimmy's. The sauce seemed to have a bit more tomato.

Stamey is the godfather of BBQ in Lexington. And the restaurant lets you know it...too much glitz and neon. But the waitress was very nice and was sympathetic to our having already eaten two sandwiches that morning prior to eating at Stamey's.

Visited August 25.

John Wayne's is not on the main drag. You have to follow this sign.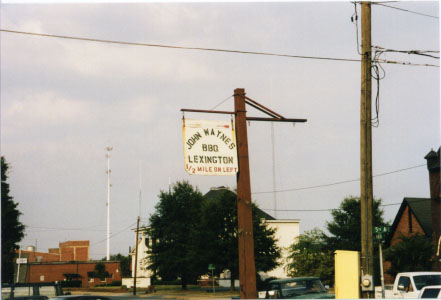 And then you go several blocks.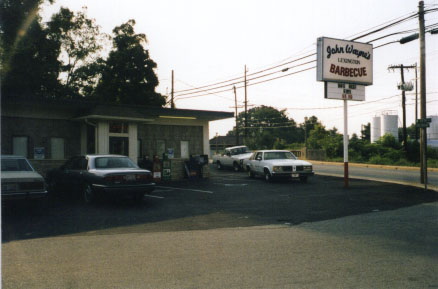 The meat at John Wayne's was good, but not quite as good as Jimmy's or Stamey's. The sauce was good, but a bit on the sweet side.

Visited August 18 and 19.

The sign.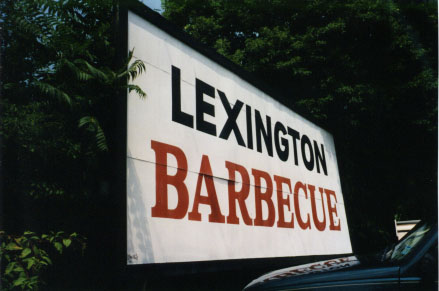 I have no idea what I'm doing here. Maybe signaling that a field goal attempt was wide to the left?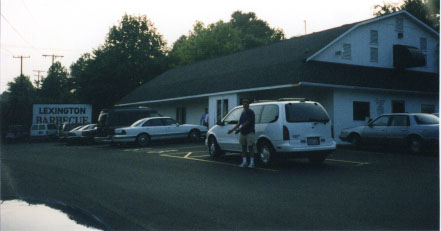 Random customers and me.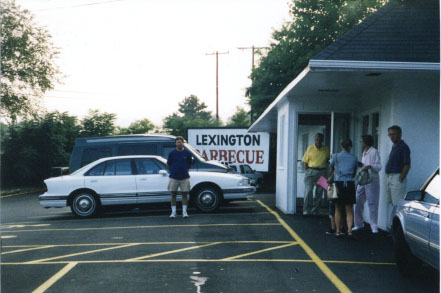 Lexington BBQ is the best known BBQ restaurant in Lexington. It's also known as Lexington BBQ #1 and (to locals) Honey Monk's.

I thought that the meat was about the same as John Wayne's but with slightly less flavor. When we got a sandwich of outside meat, it was smokier than our first meal, but also significantly dryer. The sauce is good.

Visited August 25.

Speedy's sign. I forgot to actually get a picture of the restaurant.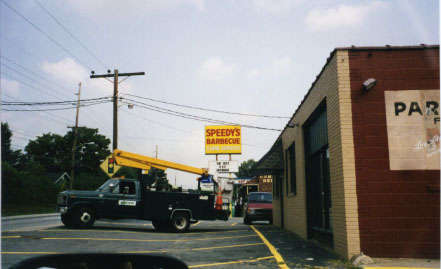 At Speedy's the meat had good smokiness. But it was greasy and didn't have much sauce. It wasn't bad BBQ, but it was nowhere near as good as Jimmy's, Stamey's, John Wayne's, or Honey Monk's.

Visited August 19.

Southern BBQ and its generic sign.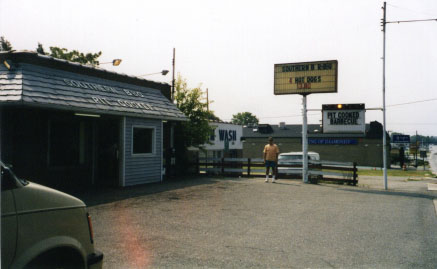 By far the greasiest meat of the Lexington six-pack. Also the least flavorful and least sauce on the meat. Too bad, because it's also the diviest of the six-pack, and you always root for the dives.
Nicole's Dissent
I quote here from Nicole's notes.
Nicole agrees with #1, 5, & 6 rankings above. However, she ranks John Wayne & Lexington ahead of Stamey's (by a nose), reasoned thus:

#2 Lexington BBQ was served on a tray 1st time, not as sandwich, so we could really taste just meat & sauce, which were perfect--not greasy, yet moist & saucy. Good spice.
#3 John Wayne was good porky meat, not greasy & not so smoky that it overpowered pork flavor. Sauce, though sweet, still was plenty vinegary & spicy & not thick. (Plus no attitude & real Southern sides, even though these have no bearing on quality of BBQ itself.)
#4 Stamey's also was good but their thicker, sweeter (towards KC-style) sauce & glitzy parlor distracted me from liking the meat as much as Tom did.
---
Thomas H. Cormen <thc@cs.dartmouth.edu> Last modified: Sun Sep 20 09:28:08 1998