Old Clinton BBQ, Clinton, GA
Visited August 24.

We were driving through Georgia around 5:00 PM, and we passed this place.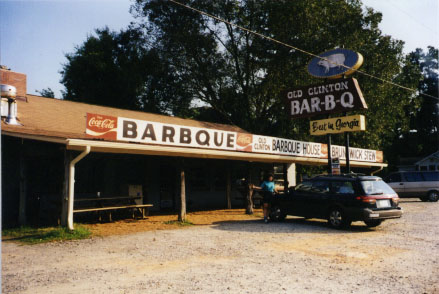 Never heard of it, but why not? It says, "Best in Georgia."
And it might be. It certainly was excellent. Right up there with the top tier of the Lexington Six-Pack. It was more of an eastern NC style, though. The sauce was vinegar and pepper. Lots of pepper, so I liked it. No tomato at all. We got chopped pork. The meat was very good, with nice smoky flavor. And the Brunswick stew was good, too, also with lots of pepper.
They had a TV on when we were there, and an old Andy Griffith show was on. I know this has nothing to do with the BBQ, but it added to the ambience.
---
Thomas H. Cormen <thc@cs.dartmouth.edu> Last modified: Tue Feb 9 13:57:02 1999