This page links you to my artwork, music, friends (two and four-footed), and family. I am primarily a watercolorist, and much of my work reflects my love for all kinds of creatures. I paint (and draw) from life, whenever I can. However, much of my work is painting pet portraits, and since my customers come from all over the world, I work from photos too! Some of my paintings are also sold as prints, for very reasonable prices. I hope you enjoy your visit.Special Note: If you purchase any Cairn Terrier Art,directly from me, 15% of the purchase price will go to Colonel Potter Cairn Terrier Rescue (see above) (not including shipping, handling or insurance.) Please mention this when you make your purchase. .
---
Current and upcoming Shows:
Chesterton Art Center, Chesterton, Indiana- NATURE ART INTERNATIONAL group show. Aug. 24-Sept. 30.Opening reception, Aug. 27. Chesterton web page
Pegasus Gallery, Quechee, Vermont-I am a regular exhibitor here. Pegasus web site call (802) 296-7693
Reed Gallery -, Chester, Vermont, Sept. 17- October 15
Quick trip:
---
Click here to find listings with reference pictures of specific dog breeds, animals, or types of painting, print sizes, prices and ordering information
NEW PAINTINGS August 2005 UPDATE

click on pics for enlargements in a new, separate window
---
---
Click below for samples in various categories:

P.S.Visit my new piggy page here for more pig-traits
---
---
Go HERE to See Some More Recent Examples of my Work
---
AFRICA!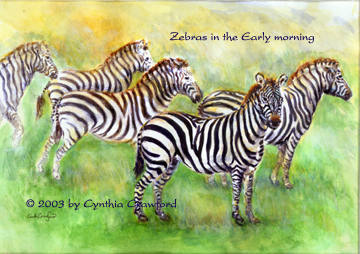 Zebras in the Early Morning
Click on the ZEBRAS to visit my AFRICAN Paintings
You can also see them on my wildlife page (see table below).
---
---
IF you see a painting offered as a print that you would like to purchase as an original, please contact me here
MY PRINT POLICY and COPYRIGHT INFORMATION: No original commissioned portrait can be reproduced without the permission of the owner and myself.That is my personal policy. However, it is against the law for ANYONE, even the owner of an original painting or a print, to reproduce it without permission of the artist.
---

Vote for me here on topsitelists.com!
I am a proud member of

Nature Art International